UBC Robson Square is conveniently located on Robson Street by the Vancouver Art Gallery, and within walking distance of three SkyTrain stations.
Address
800 Robson Street
Vancouver, BC, V6Z 3B7
Phone Number
Front Desk: 604 822 3333
Building Hours
UBC Robson Square is open to participants and students for scheduled in-person classes and events.
For questions regarding access you can reach us at 604 822 3333.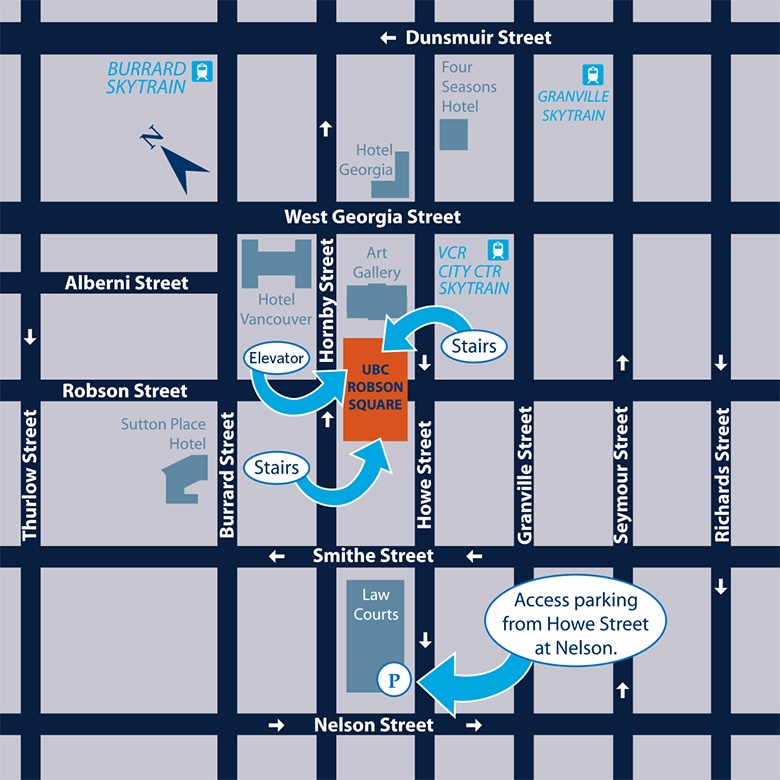 Public Transit
UBC Robson Square is a short walk from the Burrard, Granville, and City Centre SkyTrain stations.
Use the Translink website to plan your trip via transit from any location in the Lower Mainland.
Driving & Parking
To access the WestPark lot for 800 Robson Street (Lot 189), head south on Howe Street to the corner at Nelson Street. The parking lot entrance will be on your right, just before Nelson. Note that Howe is a one-way street.
 Once you have entered the parking lot, follow the directional signs to UBC Robson Square.
For current pricing call Westpark at: 604-669-7275 [PARK]

Accessibility
We offer elevator access via our entrance on Hornby Street at Robson Street.
Shipping
If you need to ship materials for a conference or class, please make arrangements with your event coordinator.
Deliveries
Deliveries to UBC Robson Square are made through our loading bay.
Directions to loading bay
Enter through the Pacific Centre Parkade. Entrances are located on Howe Street (at Georgia and at Dunsmuir Streets). Semi-trailers are required to use the Dunsmuir Street entrance.
Keep right and take the right at the fork in the road.
Follow signs to 800 Hornby Street.
Go to the North Loading Bay.
Use the intercom on the wall at the loading dock to contact security staff. Let them know you are making a delivery to UBC Robson Square.
The large loading bay doors will be opened – head down the hallway to the UBC doors.
A staff member will meet you there to let you into the campus.
Maximum height
The maximum height for the Robson Square parking garage is 6.5 feet. The maximum height for the loading bay, which is located on Dunsmuir Street, is 13 feet.
Parking is available for up to a maximum of 30 minutes at the loading dock.
If you need more help, please call 604 822 3333.